Will Neault to Humboldt Bronco's Invite-Only Camp
May 24, 2018

Posted by:

Newbridge Academy
The Humboldt Broncos have invited Newbridge Academy student-athlete, William Neault, to attend their invite-only hockey camp this weekend being held in Saskatoon, Saskatchewan. He will be one of 80 invited hockey players trying out for the 2018-2019 team that competes in the Saskatchewan Junior Hockey League, as they begin the rebuilding process after the extremely tragic bus crash that took the lives of 16 players and staff of the Broncos organization.
Will, originally from Mount Tremblant, Quebec, has been a student at Newbridge Academy for two years. He was recruited by Athletic Director and Major Midget Head Coach Olivier Filion. "I remember coaching a camp for Midget AA in 2015 and this 5'3" defenceman showed up. He had amazing hands and hockey sense and played with grit and determination-which has never let up," said Filion. He has competed on our Varsity hockey teams for the last two years serving as an assistant captain for both the U16 Varsity Team in 2016-2017 and the U18 team this past season.
"I'm extremely happy that Will has landed this opportunity. He is a model student-athlete who represents everything that Newbridge Academy stands for. He has done nothing but work hard and improve his game since his arrival here at Newbridge. I believe he will continue his progression to the next level, and this is a fantastic opportunity for him to showcase his abilities at the other end of the country," said U18 Head Coach Matt Anthony.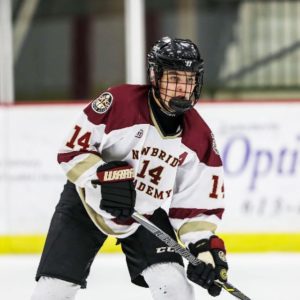 Will is an accomplished athlete as well as an extraordinary student. He was awarded the Roman Bengert academic scholarship for this year. This scholarship is awarded to students who not only have a strong a character but also extraordinary academic aptitude.
"We are so proud of Will. This invite is an amazing honour and I can't think of a better student-athlete to represent the Broncos hockey team and the Humboldt community," said Headmaster Jason Wolfe.
Will is graduating from Newbridge Academy in June, and will be moving on to play Junior Hockey in the fall. His ultimate goal is to play hockey in university. "Going to the Humboldt Broncos' tryouts is a fantastic opportunity for me. After the tragedy that happened, I know it is going to be emotional. I am very excited to go out there and compete for a spot. I am positive that it will be an experience to remember. I worked all year with my coaches and teammates in order to be ready for this moment so I am very confident that everything will be great," said Will.