Varsity Female Hockey Program
Unique Learning and Training Environment of Elite-Level Student-Athlete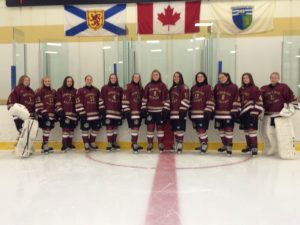 As of April 2016, Newbridge Academy is now an accredited Hockey Canada Sports School which will allow our programs an opportunity to play in Hockey Canada and Hockey USA sanctioned events and exhibition games.
Goal of the Program
To create a unique learning and training environment of elite-level student-athlete who are looking to combine academics and athletics to pursue Canada Winter Games, Hockey Canada Female HP Stream and post-secondary opportunities in Canada (CIS) and the US (NCAA).
Exposure
Staff will work as advisors to promote our players so they can have opportunities to advance their hockey and academics with:
Comprehensive scouting packages
Tours and presentation when and where opportunities are presented
Working with recruiters
Education on Junior Hockey, CIS and NCAA recruiting
Knowing the rules and regulations of recruitment and admissions
Prepare student-athletes for college / university entrance exams

School Experience
Focused student-athletes
A small school community leads to strong camaraderie and school spirit
Students focusing on developing leadership skills
Small class size
Online curriculum, personal iPads and an Academic Advisor while traveling
Professional Coaching
This is what we do – we are professional coaches.
Trained and Accredited Coach Staff to develop High Performance Players
Coached the game at a high level
Teach the game with passion
Network of coaches and administrators across Canada and the USA

Focused Approach
We will apply a building block approach:
Address and re-focus the fundamental skill base areas
Individual tactics (enhance and develop confidence)
Team tactics (development of the "ten foot" game)
Team play and systems (define and broaden)
Biomechanics and functional strength testing to develop individualized off ice and on ice training programs
Nutrition. Mental Prep, and Individual Player Management development.

Are there billeting opportunities?
Newbridge Academy does offer a Home-Stay program. We match student-athletes with families within the community to provide a safe and reliable atmosphere for the duration of the student-athletes enrolment – likely other local Varsity players and their families. Families are also welcome to make their own arrangements if interested.

What is the application process for the Varsity Program?
Newbridge Academy's admission process for the Varsity Program:
Letter of Intent (signed by student, parent)
School Application Form
Transcript from previous school
Personal essay
Two letters of reference – Academic and Personal
Academic Evaluation (through Newbridge)
Interview with Headmaster

Does Newbridge Academy offer financial aid?
Financial assistance is available through Apple Financial to meet the needs of some our families. Apple Financial Services Inc. has been providing bursary and financial assistance analysis to contribute towards educational expenses. Currently, Apple Financial provides this assessment service to families that are applying to, or in attendance at, more than 100 schools across Canada.