The Leukemia and Lymphoma Society of Canada Light the Night Walk
October 2, 2016

Posted by:

Newbridge Academy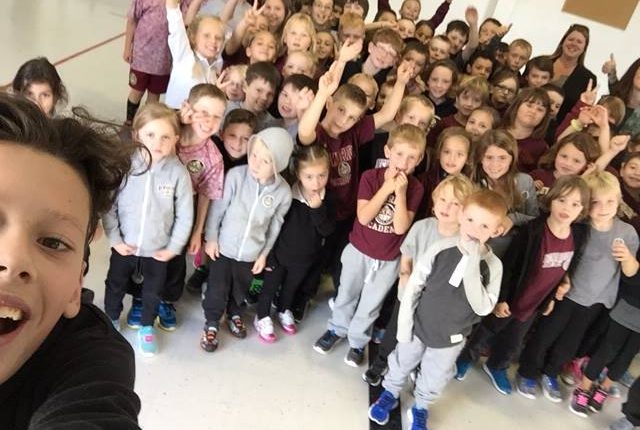 Dear Newbridge Families
Re: Assembly in aid of The Leukemia and Lymphoma Society of Canada Light the Night Walk
Yesterday we were honored to have two special guest speakers at our assembly to speak to us about Light the Night, a walk being held in Halifax on October 15th. Krissy Arbuckle, committee chair for Light the Night Halifax and Parker Murchison, our very own student and Honored Hero for Light the Night, spoke to the students about the importance of research in their aim to find a cure for blood cancer.
In order for research to continue, Light the Night is a major fundraiser in Halifax. We ask that you take some time to read the enclosed letter and support us in our effort to raise funds in support of the Leukemia and Lymphoma Society of Canada.
Our hope is to have a large team of teachers, parents, students, friends and family out that night to support Parker. More information will be sent home in the coming two weeks. If you have any questions, please feel free to contact me at anytime. Looking forward to your support.
Thank-you,
Dale
Light The Night Halifax
---
Dear Parent/Guardians,
This year Newbridge Academy will be proudly supporting Light The Night Walk on Saturday, October 15 th at the Garrison Grounds, which benefits The Leukemia; Lymphoma Society of Canada (LLSC).
One of our very own Newbridge Academy students, Parker Murchison, is one of this year's Honored Heroes for Light the Night Walk, and is a Leukemia survivor.
The LLSC is a voluntary health organization committed to funding blood cancer research, education and patient services to all those in need of support.
Light The Night Walk is an event filled with inspiration and fun. During this event, students, families and friends gather to bring light to the dark world of cancer. Walkers carry illuminated lanterns showcasing their relation to the cause; a white lantern for blood cancer patients and survivors, a red one to walk as a supporter and a gold one in memory of a loved one lost.
We are encouraging the Newbridge community to get involved.The students at Sackville Sports Stadium will be hosting a casual day on Friday, October 14 th in support of Light the Night. We are encouraging students to participate at a minimum cost of $3.00 but they are welcome to collect and donate as much as they would like to help in this great cause.
Join Us! We would like to extend an invitation to you and the rest of your family to join us in this amazing event. There will be a team of teachers and students joining the walk in support of Parker and the LLSC organization. Teachers will be encouraging our students and their families to join us on that evening. Here is a small clip on what you can expect that night.
We are delighted to be a part of Light The Night this year and hope that everyone involved will walk away with a sense of goodwill and pride knowing that they have made a difference. Thank you in advance for your support!