Newbridge Academy offers both elite and basic soccer program for students in grades three through twelve. These programs offer students the opportunity to refine individual soccer skills and competencies. The soccer programs develop elite athletes by enlightening players of the attitude, behaviours and mental approach required to excel in soccer and most importantly in life. This program will allow Newbridge student-athletes to have the necessary academic and athletic support, mentorship and education to pursue soccer at the post-secondary and professional level. The purpose of the various soccer programs offered is to help young athletes pursue their goals while demonstrating integrity and conviction.
Elementary Program – Grades 3-5
This is open to all skill levels and consists of two, one hour sessions. These sessions include Technical, Futsal Scrimmage and some introductory to components to Ball Mastery.
Junior & Senior High Programs – Grades 6-12
Basic Program: This is open to all skill levels. Student-athletes can choose a between a 3, 4, or 5 day a week program, 1 hour per day. These sessions incorporate Technical, Small-sided Games, and Ball Mastery.
Advanced Program: This program is open to only those students who have applied and have been accepted into the program.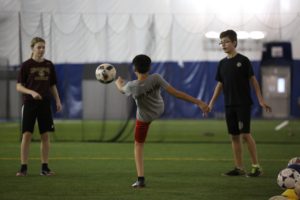 The advanced program will consist of ten hours of weekly training focusing on technical, tactical, physical, and cognitive and recovery aspects of the game. Sessions include: Ball Mastery, Speed and Agility, Scrimmage, Endurance, Strength sessions, Flexibility, and Tactical Sessions.
Having the flexibility and support in the classroom and being able to train during the school day is an edge that will help our athletes reach the next level. Providing soccer players with the opportunity to enroll at Newbridge Academy and train during the school day, evenings and weekends are free for club and provincial programs.
Newbridge Academy is pleased to announce the hiring of Graham Chandler, as the Academy's new Director of Soccer:
Canadian Soccer Association (CSA) National "B" Licence Coach
Director of High Performance for Soccer Nova Scotia, 2013-17; Director of Coaching for Soccer Nova Scotia 2012-14
Director of Soccer Nova Scotia's Regional Exceleration (REX) Program (girls), 2014-2017
Director of Soccer Nova Scotia-Vancouver Whitecaps Residency Prospects Academy (boys), 2016-2017
Former teacher and soccer coach, Stanstead College, Stanstead, Quebec, 2007-2012
Former women's head coach of Atlanta Silverbacks Soccer Club, United Soccer Leagues (USL), 2005, 2006
Former university women's head soccer coach at Dalhousie University (2001-2007)
Former university women's assistant soccer coach at University of Ottawa (1996-97)
Former university men's head soccer coach at Mount Allison University (1990-95)