Newbridge Academy's Female Bantam Team Inks Two More Players
Sarah Miller of Halifax and Sarah Callaghan of Hammonds Plains have both committed to play for the Newbridge Female Bantam team for 2018-2019.
Sarah Miller will be entering grade 9 this year. "She is a solid, defensive defenceman who also has great offensive potential. Sarah is an intelligent player and exceptional student. She is an excellent passer that sees the ice well and has the ability to make big plays Sarah will be an anchor for our defence and a go-to player in all aspects of the game," said Director of Female Varsity Hockey Kirk Tomlinson. She is excited about the trips she will take this season with her team, and hopes to play for a successful university team.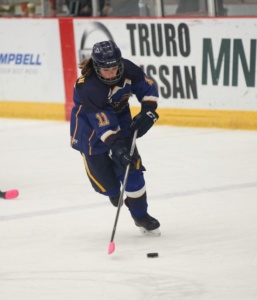 Sarah Callaghan will be entering grade 8 for her first year as a student at Newbridge Academy. "Sarah has shown to be a gritty player that has demonstrated strong puck skills. We are looking forward to seeing her develop through our program. She has shown a strong work ethic as well which will lead to her future success," said Female Bantam Head Coach Keifer House. Callaghan recently won the Nova Scotia Provincial Championships with her PeeWee A boys team. She is ready to continue to develop her skills as a player and make new friends. She hopes to one day play for Team Canada.
Welcome Sarah and Sarah!
Quick Q&A with Sarah Miller
Favourite subject in school: science
Favourite pre-game meal: pasta
Favourite thing to do in the off-season: volleyball, water ski and swim
Favourite hockey player: Jill Saulnier and Johnny Gaudreau
Quick Q&A with Callaghan
Favourite subject in school: English
Favourite pre-game meal: pasta with pesto
Favourite thing to do in the off-season: paddling and lacrosse
Favourite hockey player: Brendan Gallagher