Newbridge Academy
>
Blog
>
Education
>
Newbridge Academy is pleased to announce the hiring of Graham Chandler, as the Academy's new Director of Soccer
Newbridge Academy is pleased to announce the hiring of Graham Chandler, as the Academy's new Director of Soccer
May 31, 2017

Posted by:

Newbridge Academy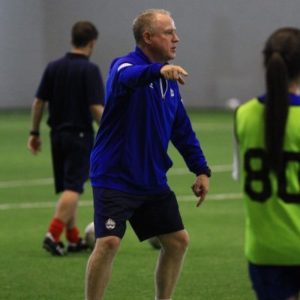 Newbridge Academy is pleased to announce the hiring of Graham Chandler, as the Academy's new Director of Soccer.
Newbridge Academy CEO Trevor MacEachern said, "We are very excited to have Graham leading our soccer program and looking forward to growing this part of our school. We are very committed to our student athletes and providing the best instructors and teachers is our priority. Graham's passion for soccer is evident and I believe this will benefit all of our student athletes."
Chandler comes highly recommended with an extensive soccer background, including his present role as the Director of High Performance/REX programs at Soccer Nova Scotia.
Brad Lawlor Executive Director of Soccer Nova Scotia said, "I would like to thank Graham for his dedication and devotion to our athletes, our coaches and ultimately the game of soccer in Nova Scotia. Graham was an integral part of our team and his passion and love for the game was obvious to all that he has worked with. We are sorry to see Graham leave Soccer Nova Scotia but we wish Graham all the best in his new role of Director of Soccer with Newbridge."
His involvement over the last five years at Soccer Nova Scotia, has been linked to the growth of the high
performance athlete, holding various leadership roles including Director of Coaching, the Regional Exceleration
(REX) Program and the Vancouver Whitecaps Residency Prospects Academy.
Graham also currently holds a Canadian Soccer Association National "B" License Coach Certification. With his
coaching experience with Stanstead College, Atlanta Silverbacks Women's Soccer Club and at the Canadian U
Sports levels with both men and women program's makes him an ideal fit for his new role at growing the
Newbridge Academy Soccer Program.
"I am very excited to join Newbridge Academy as the Director of Soccer and look forward to the opportunity of
working with the staff at Newbridge in developing the soccer program for aspiring young male and female players," said Chandler.
"At the same time I wish to thank Brad Lawlor and everyone at Soccer Nova Scotia for a very productive past five
years as we created new programming and opportunities for aspiring young players in Nova Scotia. Though I will
miss the provincial organization I am optimistic that the relationships built will undoubtedly continue as Newbridge Academy works closely with SNS to deliver top player development programs for its students."
Graham will begin his duties at Newbridge Academy on June 5th.
Soccer Information session:
Newbridge Academy will be hosting an Information Session for interested players and parents on Thursday, June
8th and Friday, June 9th at Harbour East Field in Dartmouth, Nova Scotia. For additional information, please visit
www.newbridgeacademy.ca or contact the Newbridge Office at 902-252-3339.