Newbridge Academy Major Midget Roster Update
June 20, 2018

Posted by:

Newbridge Academy
The Major Midget Team at Newbridge Academy is thrilled to announce the return of forward Alex Arsenault from Saint Charles, New Brunswick. Alex will be a strong leader for this high caliber team. Coming off a very successful season, Alex hopes to continue this momentum and secure a draft spot in the 2019 Quebec Major Junior Hockey League draft.
"Alex will be a big part of our Major Midget roster for 2018-2109. He will bring strong leadership, speed and offensive touch to our young squad. I am really excited to have him back with me," said Head Coach Olivier Filion.
Alex continuously improved over the last season. He finished the year leading the Major Midget team to a championship at the Leo Boivin Tournament finishing as the leading scorer and earning the most valuable player award at the Leo Boivin Tournament. He was also selected to be a member of Team New Brunswick at the Gatorade Excellence Challenge that took place in Boisbriand, Quebec in April.
"Alex improved literally everyday on the ice," said Filion. "He showed up 100% to every practice and every game. He excelled in our program and you could see his game get better and better. By the end of the season, everyone was watching him."
Alex was invited to attend a prospect camp in May with the Central Illinois Flying Aces of the United States Hockey League . The USHL is a high caliber junior hockey league that consistently places players in University hockey programs. While there, he was chosen to play in the Young Guns all-star game.
Two other players have also committed to play for the Major Midget team, Ray Murakami and Tyler Payne. "I had the chance to see Ray and Tyler play last season and they are great addition tour our team. They have great work ethic and are eager to get better," said Filion
Defenceman Ray Murakami is from Hokkaido Asahikawa, Japan. Ray played for the Newbridge Academy Major Bantam Team this past season. He is excited to continue his schooling and athletic experience at Newbridge. He plans to work hard so that he can improve his chances to be drafted in the USHL.
Forward Tyler Payne is from Lantz, Nova Scotia. He wants to play University hockey and decided to join the program because of the added exposure to not only the scouts of those programs, but also to be more prepared academically.
Welcome boys!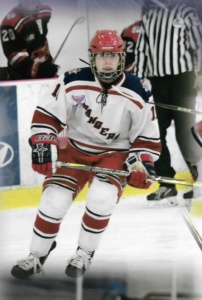 Quick Q&A with Alex
Favourite Subject: Math
Favourite Hockey player: Brendan Gallagher
Favourite pre-game meal: Spaghetti
Favourite off-season activity: Soccer
Quick Q&A with Ray
Favourite Subject: Science
Favourite Hockey player: Rasmus Dahlin
Favourite pre-game meal: Ceasar Salad
Favourite off-season activity: Workout
Quick Q&A with Tyler
Favourite Subject: Science
Favourite Hockey player: Connor McDavid
Favourite pre-game meal: Chicken Alfredo
Favourite off-season activity: Softball and Golf