Newbridge Academy Major Bantam – RJ MacMinn
June 4, 2018

Posted by:

Newbridge Academy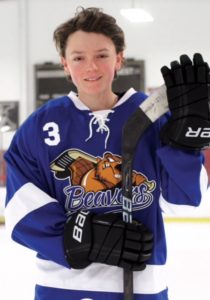 The Major Bantam team is announcing the commitment of RJ MacMinn from Thunder Bay, Ontario. RJ is an accomplished 2004 defensemen known for his skating and poise. His family found out that they were making the move to Halifax and were researching a school for RJ when they came across Newbridge Academy. They selected Newbridge Academy because they found it the best balance between academics and hockey development.
"RJ is a player that I watched for a couple games at a tournament in Halifax recently and really liked his skating and puck management under pressure. He will certainly be a solid contributor for us on the back end and has the potential to develop and grow within our bantam program," said head coach Brandon Benedict.
RJ will be starting grade nine this year. He is also an avid golfer and will be participating in the Newbridge golf program under the direction of Andrew Noseworthy, the golf program instructor.
Quick Q&A with RJ
Favourite Subject: Science
Favourite Hockey player: Ryan McDonagh
Favourite pre-game meal: Pasta
Favourite off-season activity: Golf
Welcome RJ!