Newbridge Academy Major Bantam is excited to announce the addition of Duncan Ramsay
August 1, 2018

Posted by:

Newbridge Academy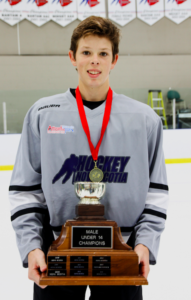 Newbridge Academy is excited to announce the addition of Duncan Ramsay of Belnan, Nova Scotia to their Major Bantam hockey program for the upcoming season. Duncan spent last year playing Major Bantam with the All Credit Auto Rangers of the Nova Scotia Major Bantam Hockey League, where he was one of the top defensemen in the province. He has many accolades already including winning a PeeWee AAA Provincial Championship, an Atlantic Challenge cup and was named the top rookie at the 2017-2018 Ice Jam Tournament in January.
"I feel very fortunate to have the opportunity to work with Duncan this season. As good as a hockey player Duncan is- I was most impressed with his character off the ice. He is a very mature person who will exemplify what it means to represent Newbridge as a student athlete."
The Major Bantam team is getting close to completing its roster with the addition of Duncan, and they are certainly going to be a much stronger team according to Coach Benedict. "Duncan does everything at an extremely high level on the ice which helps make the players around him better. He's very mobile, and has the skills and vision to make plays because of his composure and confidence with the puck under pressure."
Duncan will be entering grade 9 for his first year attending Newbridge Academy. He is excited about the opportunity to work and play with new players and coaches. He is also very excited to play more hockey outside Atlantic Canada while playing in the United States Premier Hockey League as well as the Canadian Sport School Hockey League.
Welcome Duncan!
Quick Q&A with Duncan
Favourite Subject: History
Favourite Hockey player: Erik Karlsson
Favourite pre-game meal: Spaghetti with chicken
Favourite off-season activity: going to the beach