Newbridge Academy
>
Blog
>
Boys Varsity
>
Newbridge Academy is pleased to announce that Noah Adams will be returning as team captain for his senior year to play for the Midget Prep team
Newbridge Academy is pleased to announce that Noah Adams will be returning as team captain for his senior year to play for the Midget Prep team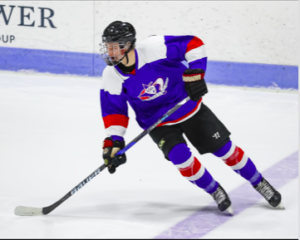 Noah, a native of Saint John, NB, will be entering his third season at Newbridge, having spent his first year with the Major Midget program and last year with the U18 team. Noah has continued to grow as a player, student, and person since his arrival at Newbridge. Noah has consistently volunteered with the Mighty Hockey program that helps kids ages four and up learn to skate and play hockey. He was chosen as the recipient of the Newbridge Leadership Award at this year's closing ceremonies.
Last year, he was an assistant captain and a point-per-game player. He was rewarded by being selected as a territorial selection by the Grand Falls Rapids in the Maritime Hockey League draft. He will continue to be counted on for leadership this season as he will be the Captain of the Prep team. Head Coach, Matt Anthony, had nothing but praise for the veteran student-athlete. "Noah is, without hesitation, one of the best kids I've ever coached. He is consistently pushing his own limits while pushing his teammates at the same time. He takes nothing for granted and works his tail off in the classroom, gym and on the ice. I am very excited to be able to work with him even closer this season as our captain- he will do a fantastic job leading our squad this season."
Noah is excited about the upcoming schedule, and to finish out his high school years at Newbridge. "I'm excited for the new leagues the team is competing in this year. I am ready to prove that our little school from Dartmouth, Nova Scotia can compete with the best of the best."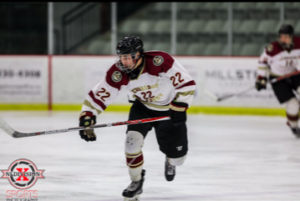 The Newbridge Academy Midget Prep team will play in the Canadian Sport School Hockey League and the United States Premier Hockey League in the 18U division. They will also play other prep tournaments in the US and Canada.
Welcome back Noah!
Quick Q&A with Noah
Favourite subject in school: Math
Favourite pre-game meal: scrambled eggs
Favourite thing to do in the off-season: train for hockey and go fishing
Favourite hockey player: Matthew Tkachuk