Newbridge Academy is Pleased to Announce Ryan Hillier Joining Athletic Staff
June 15, 2018

Posted by:

Newbridge Academy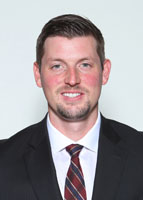 Newbridge Academy is pleased to announce that Ryan Hillier is joining our Athletic staff as head coach of the U18 Varsity Hockey team. He has been an Assistant Coach for St. Mary's University Men's hockey team for the past three seasons, as well as the strength and conditioning coach for the university and other local hockey players.
"I look forward to bringing my knowledge and passion for the game to Newbridge Academy so that I can help student-athletes reach their maximum potential," said the Hammonds Plains, Nova Scotia native.
Hillier was drafted 18th overall in the QMJHL draft by the Halifax Moosehead, where he played four seasons. He was then chosen in the 2006 NHL entry draft by the New York Rangers in the third round, 84th overall. He went onto play professional hockey for three seasons with the New York Ranger's affiliate teams before returning to Saint Mary's to further his education. He played two seasons for the Huskies and was a CIS silver medalist in 2012/2013 as a player, and in 2015/2016 won a CIS bronze medalist as an assistant coach.
"I am very excited to have Ryan join the Newbridge Family. We have built our school with quality people and Ryan is a fine example of who we are looking for to work with our student-athletes," said Chief Executive Officer Trevor MacEachern.
First up for Hillier will be attending the Atlantic Hockey Showcase at the end of the month with the rest of our hockey coaching staff in Charlottetown, PEI.
"Ryan is an amazing addition to our staff. Continuing with the trend to bring highly successful, former QMJHL players on board as coaches, Ryan will be key to develop our players skills," said Athletic Director Olivier Filion.
Welcome Ryan!