Hockey Program
Proven Training Model for Player Development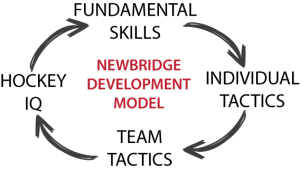 The Newbridge Academy Hockey Program is a proven training model for player development. Our developmental model has a proven track record of providing an opportunity for student-athletes to build strong foundational skills, showing them how to apply these skills in Individual Tactical and Team Tactical situations, while at the same time developing the student-athletes Hockey IQ. Peewee 2005 Varsity Skills Work Example
The cornerstone of our program is our thorough skill development process. Our "building block" strategy enables the participants to focus on small pieces of skill acquisition, develop proper technique, and then enhance that technique by increasing speed and dexterity. By breaking skills down into smaller chunks student-athletes are better able to build a blueprint for how those pieces should be executed. Skill isolation is an innovative approach that enables participants to build skills both effectively efficiently. Student-athletes are coached to work in their "Sweet Spot" to achieve the proper balance of engagement, struggle and success to self motivate them to maximize their ability. Watch Hockey Program Example
The second piece of our model is developing individual tactics. Specifically how to apply the foundational skills in 1vs1 situations – both offensively and defensively. We teach these tactics in a variety of ways using innovative skating and edge work, puck skills, competitive game situations and other related approaches to teach players how to use their "tool box" of skills to gain advantages in these game situations.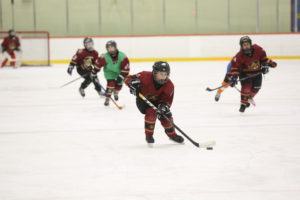 Next is team tactics – similar to individual tactics but applied to situations that involve multiple players. Concepts are added to teach these game-situations, building on the development gained through the first two steps in our developmental process.
Hockey IQ is the final piece of our player development model. This process is the link that ties the first three steps together and ultimately is what separates players of similar skill, moving our student-athletes forward in their development. Students gain the ability to read the play as it develops. They will learn how to anticipate, react and be fluid in game situations.