Golf Program
High-Level Junior Golfers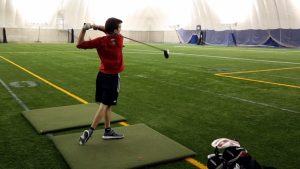 The Newbridge Academy Golf Program enters its fifth year with its largest enrolment ever. Led by PGA of Canada Coach, Andrew Noseworthy, it includes important aspects for both the recreational and competitive golfer to improve. The Golf Program is available for students from grades 3 to 12. It allows students to graduate with their Nova Scotia Department of Education High School diploma from highly-trained Nova Scotia licensed teachers, while integrating intensive golf specific training.
Unlike traditional golf swing instruction, at Newbridge Academy, the students are coached on a variety of topics such as:
Technique
Rules knowledge and testing
Tactical planning
Fitness
Equipment evaluation
Nutrition
Mental performance
Skill benchmarking
Goal setting
Decision making
Reflection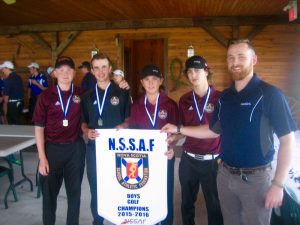 All of these subjects are important for growth of the golfer – it's so much more than just working on your swing. The depth with which we go into each topic will be age and experience dependent and tailored to the individual golfer.
There are a variety of training sites used throughout the school year to facilitate the Golf Program:
Classroom – Newbridge Academy Campus
Indoor turf – Newbridge Academy
Outdoor practice facilities – The Links at Brunello and Harbour East All Weather Field
On course – The Links at Brunello
Off Season – Junior High and High School March Break trip to Florida
The Newbridge Academy Golf Program exposes students to high-level education and first class training never seen before in Nova Scotia.