Newbridge Spotlight: Evan Aldred – Senior High  Teacher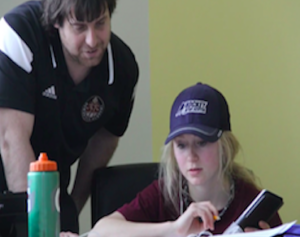 Evan has been a member of the Newbridge Academy teaching team since 2014. He has spent the past three years instructing at the Senior High level and also serves as the teacher advisor for the school's student council. Additionally, Evan is the director of Newbridge Academy's online learning platform, where he helps students complete distance education courses. Prior to beginning his teaching career, Evan earned a BSc at Dalhousie University before completing his Education degree at the University of Maine, where he made the Dean's list. Additionally, Evan has recently finished his Master's upgrade in Mathematics through St. Mary's University.
In the classroom, Evan strives to challenge his students and works to promote a culture of independent learning. He believes that each student is capable of success and that this must be earned through hard work. Evan's strong knowledge base and passion for the subject matter have allowed him to create a dynamic and engaging classroom that fosters a productive learning environment for all of his students.
Outside of the classroom, Evan is an avid traveller who has visited 15 countries in his lifetime. He also exhibits a passion for sport, including hockey, football and cycling. In 2012 Evan travelled across Canada on a bicycle, and as of this writing he has watched a game in 27 of the 31 NHL arenas. When he is not off on an adventure, Evan enjoys spending time with his family, especially his two year old daughter, Arya.