Elementary Academics
Active, Hands-on Learning Environment for Children in Grades Primary to Six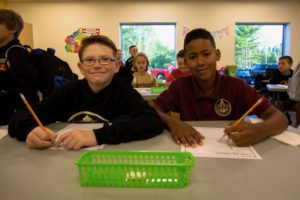 Newbridge Academy is committed to the evolution of all dedicated students through the integration of enriched academics and high level athletics.
The Elementary Program is designed to provide an active, interactive learning environment for children in Grades Primary to Six. Our mission is to achieve academic excellence in our students, while providing them with the tools to maintain a healthy, active, and balanced lifestyle.
Elementary students at Newbridge Academy benefit from a dynamic and enhanced curriculum derived from the Nova Scotia Department of Education. Our teaching staff set high expectations for our student body, and deliver engaging lessons which encompass a wide range of academic topics. Various methods and strategies are used within our classrooms, including differentiated learning, interactive learning, and integration of subject matter.
The use of theme-based interactive lessons provide motivation for students to extend their learning beyond the traditional classroom. With optimum student-teacher ratios, students make real-life connections that draw upon school, home, community, and the world. Our goal is to teach them to become global citizens, critical thinkers and to find value in life-long learning.
Classroom curriculum such as Language Arts and Math are coupled with modern technology, media-based activities and digital texts, preparing our students for our technologically-advanced junior and senior high programs. In addition to our curriculum, one of the key aspects that differentiates Newbridge Academy's program from others is our commitment to student-athlete excellence.
Lower Elementary Athletics
For our primary to grade two students, we take the "introduction" approach. Through our daily Active Living program students participate in a variety of sports which gives them the fundamental skills and awareness to continue their athletic development.
Upper Elementary Athletics
When our students reach grade three, we encourage them to choose a particular athletic focus. For many, this involves one of our professionally designed and instructed athletic programs. Students in grades three to six also participate in our daily Active Living Program, which encompasses a variety of physical activities, nutrition, teamwork, and sport skills.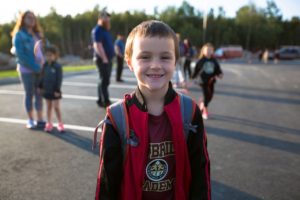 Students who are not interested in an athletic focus have the option to choose our Academic Enhancement Program. The Academic Enhancement Program is designed to enhance student engagement in which  students acquire knowledge and skills related to the world around them. Students will have the unique opportunity to engage in curriculum that focuses on entrepreneurship, life science, the arts and applied mathematics. Students in this program will still participate in our daily Active Living program in order to encourage a well balanced healthy lifestyle.
Newbridge Academy Elementary Program Photos: