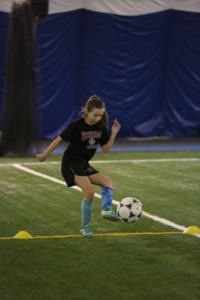 Farias Soccer Academy in partnership with Newbridge Academy offers both elite and basic soccer program for students in grades three through twelve. These programs offer students the opportunity to refine individual soccer skills and competencies. The soccer programs develop elite athletes by enlightening players of the attitude, behaviours and mental approach required to excel in soccer and most importantly in life. This program will allow Newbridge student-athletes to have the necessary academic and athletic support, mentorship and education to pursue soccer at the post-secondary and professional level. The purpose of the various soccer programs offered is to help young athletes pursue their goals while demonstrating integrity and conviction.
Elementary Program – Grades 3-6
This is open to all skill levels and consists of two, one hour sessions. These sessions include Technical, Futsal Scrimmage and some introductory to components to Ball Mastery.
Junior & Senior High Programs – Grades 7-12
Basic Program: This is open to all skill levels. Student-athletes can choose a between a 3, 4, or 5 day a week program, 1 hour per day. These sessions incorporate Technical, Small-sided Games, and Ball Mastery.
Advanced Program: This program is open to only those students who have applied and have been accepted into the program.
The advanced program will consist of ten hours of weekly training focusing on technical, tactical, physical, and cognitive and recovery aspects of the game. Sessions include: Ball Mastery, Speed and Agility, Scrimmage, Endurance, Strength sessions, Flexibility, and Tactical Sessions.
Farias Soccer Academy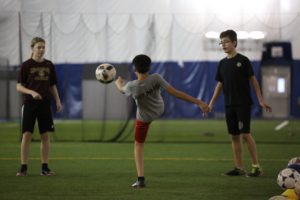 Head Coaches as well as the owners of Farias Soccer Academy, Eduardo Farias and Wendy Donaldson both hold their Canadian National B Coaching licences. In conjunction with Tyler Simmons and several additional FSA coaches, they will provide an environment that will allow the student athlete to use soccer as a vehicle for personal growth and achievement.
Eduardo Farias
Eduardo founded FSA while playing at St. Mary's University where he discovered his passion and talent for training players in his free time. He brings experience at all levels of the game, coaching in both the club and university systems.
As a youth player, Eduardo captained the Nova Scotia Canada Games team to a bronze medal in the summer of 2001. That fall he followed up with a senior men's national championship, the first ever for any Nova Scotian team, playing for Halifax King of Donair. While earning his Psychology degree at St. Mary's University Eduardo was an impact player for the men's side helping the squad earn a CIS national silver medal in 2006 and earning both AUS and CIS honours throughout his career.
Using his academic experience in psychology, Eduardo has created programs that allow players to thrive in an environment where they learn best and that focuses on individual development. On and off of the pitch, Eduardo excels at connecting with players in order to help each individual not only see but reach their full potential.
Other Coaches:
Wendy Donaldson
Jose Farias Martinez
Tyler Simmons
Mariah Wright
*All programs are dependent on number of students enrolled. For further information about this program and Newbridge Academy, please contact Newbridge at info@newbridgeacademy.ca or call 902-252-3339.
"At FSA we are committed to fostering an innovative high performance environment on and off of the field. Our partnership with Newbridge Academy allows our players to be in a setting that whole-heartedly values academic and athletic excellence – it's the perfect fit," says head coach and FSA founder Eduardo Farias. "Having the flexibility and support in the classroom and being able to train during the school day is an edge that will help our athletes reach the next level." Providing soccer players with the opportunity to enroll at Newbridge Academy and train during the school day, evenings and weekends are free for club and provincial programs.