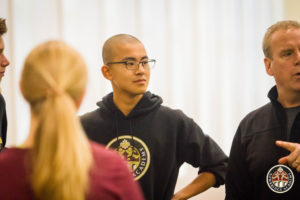 Newbridge Academy welcomes many international students to our comprehensive English as a Second Language Study Program each year.
ESL Program
Our program offers English as a Second Language classes with a qualified and professional instructor. Each class will focus on many skill areas (speaking, listening, reading, and writing) and will provide all students the language they need to live, work, study and be comfortable in Canada.
Homestay
Newbridge offers a convenient homestay program for all international students. We do our best to provide students a family where there is a Newbridge Academy student the same age and gender as the boarding student and that the student is located close to the school for travelling purposes.
We actively recruit for host families in the local geographic area. To be considered to become one of our host families, both parents must have up-to-date Child Abuse Registry check, Criminal Record check. A Newbridge Administration staff member tours the prospective home. We try our best to consider the needs of both student-athletes and families considering pets and other living situations.
Travel Assistance & Insurance
We will meet international students at Halifax International Airport and introduce them to their host families and the community. We will do our best to provide a comfortable welcome into our school. On the return journey home, we will also provide transportation to the Airport and obtain Travel Assistance for the student if it is needed.
Passports, visas, and other travel documents are the responsibility of the sending family. Each country's requirements will be different. Medical insurance is also arranged for all international students.
How to Apply
Please see the International Student Admissions Package for all forms. All forms must be filled out completely and faxed, e-mailed, or dropped off to Newbridge Academy.
Forms can be faxed to 1-902-252-3108 or email to info@newbridgeacademy.ca
Please allow significant time for your application to be reviewed and accepted. It is not unusual for this process to take up to a month after we receive your application. It is best to apply by June for the school year beginning in September.