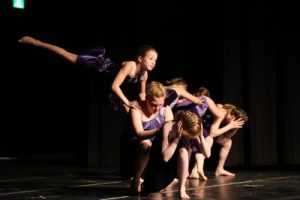 Newbridge Academy offers a comprehensive Dance Program for grades 3 to 12. The program is designed based on the needs of the dancers to establish a more structured class setting, which will include a warm-up, barre and centre exercises as well as progression of steps across the floor and choreographed routines/combos. Newbridge Academy Dance Program
Our goal is to provide the dancers with a well-rounded vocabulary of dance and to continually upgrade their skills and techniques. The study of the ADAPT syllabus (Associated Dance Arts for Professional Teachers) is the foundation of our jazz technique.
We are pleased to offer a high quality dance education establishing proper technique through the A.D.A.P.T. Professional Syllabus and our experienced dance instructors.
Our dance program is designed for students looking for the opportunity to explore dance and offer a foundation of skills needed for the growth and development of each individual dancer.
The program offers a variety of classes including jazz, hip hop, lyrical and ballet. Students develop their physical skills, channel their energy and stimulate their imagination.
Classes consist of a balance of stretch and conditioning, barre work to build and develop strength, amalgamation of steps across the floor as well as training combinations and performance opportunities. We feel a balance of each of these components is necessary to develop a young dancers experience and confidence.
As leaders in quality dance training, we aspire to teach the love of dance and movement to those around us!
Highlights:
Students in grades 3 to 12 can expect:
Increased flexibility
Gain stamina and endurance
Build confidence and body awareness
Work with a team
Promote creativity
Improve coordination
Prepare routines for Winter and Spring shows
Learn in an encouraging fun atmosphere from qualified instructors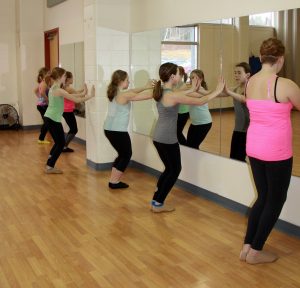 Sample Schedule:
September – Ballet / Lyrical
October – Hip Hop
November / December – Jazz
January – Ballet / Lyrical
February / March – Jazz
April – Hip Hop
May / June – Contemporary
*Please note that baseline for all classes will be jazz technique. Each term we will focus on a different style (as listed above) for a portion of the class.
Dress Code
Attire – Fitted black bodysuit or tank top with fitted black leggings or shorts (no flare pants please).  No crop tops please
Hair – Must be pulled back off face and secured in a ponytail, bun or braid.
Shoes – Beige leather jazz shoe (preferred style is the "Pulse" and is available at Artistic Sole).
Hip Hop Term – when we are working on hip hop it will be for a portion of the class. Dancers can bring in hip hop attire and wear their gym sneakers.
Program Instructors
Erin Hopewell
Erin completed her Associate Teaching Degree with the British Association of Teachers of Dance and received a Highly Commended, as well as her membership with A.D.A.P.T. She is currently the Artistic Director of Dance Zone and the Atlantic Dance Project. Erin is a well known instructor, performer, and choreographer in the Maritimes and has a steadily growing list of choreography awards both in Canada and the US.
Rebecca Morash
Rebecca graduated from Randolph Academy for the Performing Arts in Toronto. Rebecca's talent was quickly noticed and she was cast in a number of films and productions in the Toronto area throughout her tenure. After many years of study and practicum, Rebecca is now a qualified teacher and award-winning choreographer. She has obtained certification in the B.A.T.D syllabus and has successfully completed the A.D.A.P.T teacher training program. Over the years, Rebecca has been nurturing her passion for teaching and choreography.
*All programs are dependent on number of students enrolled. For further information about this program and Newbridge Academy, please contact Newbridge at info@newbridgeacademy.ca or call 902-252-3339.